Online Cabinets Cut to Size
and Flat Pack Kitchens
To help you create the perfect design we have a comprehensive planning process as part of our service.
Kitchens, bathrooms & laundries furniture, wardrobes and cabinets unique contemporary design, manufacturing and install services in Brisbane.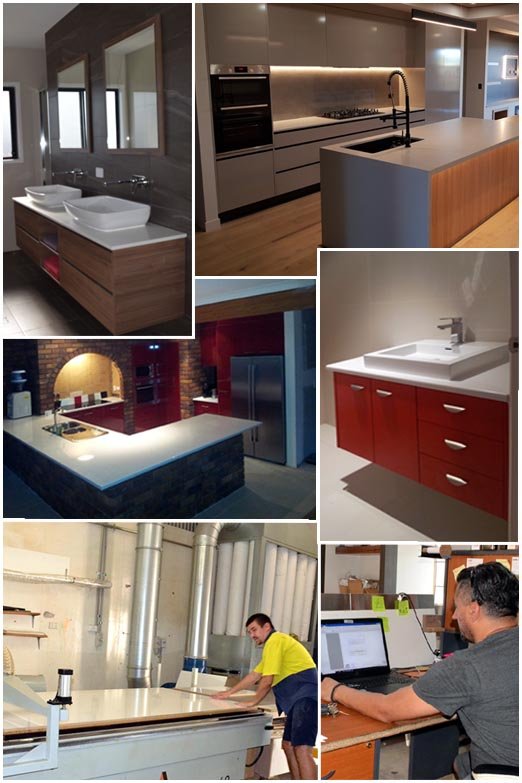 Since July 2007, our Brisbane based kitchen workshop have had our doors open to public.
We offer unique design, manufacturing and installation services in Brisbane.
Modern – Contemporary – Traditional – All custom combinations
Kitchens
Bench tops
Vanities, bathrooms & laundries furniture – cabinets
Home office furniture
Fitted bedroom furniture
Walk in kitchen pantry storage & shelving
Walk in wardrobe furniture & wardrobes
TV cabinet & custom pieces
Design, manufacturing and installation are one integrated process and we offer all three services for the best results.
—————————————————————-
ORDER YOUR CABINETS AND CUT-TO-SIZE PANELS ONLINE
—————————————————————-
Or you can download the PDF Custom made kitchen Form – HERE
(You have to download and save the writable PDFs before beginning to enter data, or your data will be lost when you save the form.)
PRICE LIST – valid until 31 March 2024.
If you pay a deposit for your order, we can arrange free measure. Without a deposit, a measure is available for $150 call-out fee that will be charged at the time of booking. This fee will be offset against your order, if you proceed with your order within the next six months from the measure date.
BESPOKE CABINETS DESIGN AND PRODUCTION
BRISBANE
Bespoke, custom kitchen manufacturer & commercial joinery supplier in Brisbane, the Gold Coast, Ipswich… At our workshop Brisbane, we can create beautiful bespoke cabinets which meet your personal needs and
CABINETS CUT TO SIZE
BRISBANE
Cut to Size Boards – Flat Pack Convenience in Brisbane
We use CNC machinery for manufacturing – they are operated by computers and offer more precise performance.
Fast, reliable and accurate MDF, MFC, Laminated boards… cutting service in Brisbane at competitive prices.
We also offer an MDF edging service.
CUT TO SIZE Boards & Carcass in Brisbane for kitchen cabinets or stylish complete kitchens… bedroom carcasses or beautifully bespoke bedrooms…, bathrooms, wardrobes, vanities, laundries…
Cut to Size prices and order forms for board cutting:
 1 – Board Cut to Size – CUT to SIZE PANELS
 2 – CARCASS Cut to Size – 16 mm WHITE HMR TEXTURES – 1mm EDGING
 3 – Full services CUT to SIZE (Flat Pack or Assembled – Hardware – Soft-close hinges – Brand, Colour, Finish – Push-to-open, Handles, Finger Pull – Metal Runners or Premium Metal Runners – Door Thick 16mm     18mm – Door Edge Colour – Carcass Edge Colour – Adjustable Legs)
 4 – Variable width Cabinets – Depths & Heights are Standard Sizes
PRICE LIST – valid until 31 March 2024
With delivery we cover the radius of approx. 35km
Custom made cabinets are becoming a number one choice for many homeowners throughout Brisbane, the Gold Coast, Ipswich…
Brisbane flat pack furniture, cabinets and kitchens will be wrapped into bundles for easy transportation, or we can deliver them to you fully assembled and ready for you to install.
If you're a builder, carpenter, landlord or property developer, we have trade prices on all our services and products.
MORE INFO
If we are NOT carrying out the installation of delivered goods, you may need additional labour required to offload.
– Every order is cut to size, to YOUR individual measurements.
– We can assemble your flat-pick products and deliver them to you fully assembled and ready for you to install.
– We do not deliver rainy days. If we have continual heavy rain, our team are given extra time to complete their delivery.
– Domestic or commercial, no matter what size the project is, please contact us.
We are located in units 3 & 4 Pendrey Ct., QLD 4114, Brisbane.